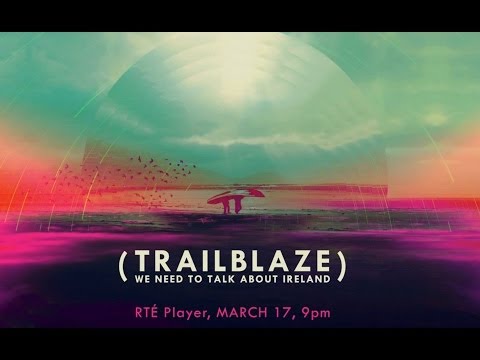 We Need to Talk About Ireland  – Produced by The Trailblazery
Live on RTÉ Player & The Washington Post
Available Internationally 21:00 GMT
St. Patrick's Day, Monday 17th March 2014 
Friday, 7th March 2014: RTÉ today announced that it is to broadcast We Need To Talk About Ireland, a 90 minute creative celebration of Ireland's past, present and future on St Patrick's Night, Monday 17 March 2014, online internationally on the RTÉ Player. The event is the brainchild of independent Irish collective, The Trailblazery and will take place in front of a live audience from The Round Room at Dublin's Mansion House.
This innovative cultural event challenges some of Ireland's brightest innovators, thinkers, artists and creative entrepreneurs to explore what it means to be Irish in 2014. Featuring inspiring TED-style talks, interspersed with music, comedy, poetry, film and a large-scale choral spectacle, We Need To Talk About Ireland is produced by The Trailblazery in association with RTÉ Arts and will be streamed internationally on RTÉ Player www.rte.ie/player from 9pm.
Participants include:
Colm O' Gorman (Director Amnesty International Ireland), Martin Hayes (Traditional Musician), Noeline Kavanagh (Artistic Director Macnas), Justine McCarthy (Journalist, Author) Manchán Magan (Author, Broadcaster), Eleanor Tiernan (Comedian), Ruairí McKiernan (Presidential appointee to Ireland's Council of State, Hitching For Hope), Grace Dyas (Theatre Maker / THEATREclub), Dylan Haskins (Broadcaster, DIY Activist), Bryan Delaney (Playwright, Screenwriter), Pat Collins (Filmmaker), Patrick McCormack (Rural Philosopher) Crash Ensemble, Nina Hynes (Singer/ Musician) Iarla O' Lionáird (Singer/ Musician), Daithí O'Drónai (Musician/ Loopstation Tweaker) St. Brigid's Children's Choir (NS Cabinteely),  The Discovery Gospel Choir with other special guests to be announced.
Over the 90 minutes of the event, the speakers and performers will tell the story of Ireland, from our ancient past to our potential future. The vision of the project is to evoke a new cultural storyline about our social, political, cultural and spiritual evolution on this island and beyond, and aims to re-imagine the kind of Ireland we want to fully participate in.
As well as being streamed internationally and available on demand for 21 days on the RTÉ Player www.rte.ie/player, We Need to Talk About Ireland will also be streamed on The Washington Post www.washingtonpost.com. The event is open to the public and a very limited number of special tickets will go on sale on entertainment.ie.
Minister for Arts, Heritage and the Gaeltacht, Jimmy Deenihan T.D. said "I am delighted to support this event. Now is the time of year when we celebrate Irishness, and this event allows for a discussion about what that means in the 21st century. St Patrick's Day puts Irish culture on the world stage, and focuses global attention on the Irish at home and across the globe. This event brings cultural voices and performers together in what promises to be a thought provoking and entertaining evening." 
Partners & Sponsors include: RTÉ, Department of Arts, Heritage and the Gaeltacht, Fáilte Ireland, Dublin City Council, and The Washington Post.
Contribute to the discussion: #Irelandtalks #pureirish
 ENDS
Contact:
Marika MacCarvill, RTÉ Digital
01-2084102 / 086-171 2568/ marika.maccarvill@rte.ie
Sharon Brady, Senior Communications Manager, RTÉ Television and RTÉ Digital
087 6858975 / sharon.brady@rte.ie
Denise Rushe, The Trailblazery
deniserushe@gmail.com / 086 3977869
Note to Editor
The Trailblazery
trail·blaze
1.    to blaze a trail through (a forest, wilderness, or the like) for others
2.    to be a pioneer in (a particular subject, technique, etc.)
The Trailblazery is an Irish collective who create social experiences that disrupt and evolve our current narratives. The Trailblazery was founded in 2011 and has been called "TED Talks with Soul". We produce spoken word, music and performance experiences in unusual locations that highlight the stories and spirit of trailblazers who are challenging these narratives, on an individual, national and global level.  It is time to rock the boat, turn the tide, step up and participate in creating the type of society we want to live in.  Sometimes it is hard to define The Trailblazery – we tend to shape shift and flock in moving patterns.  Maybe we exist as sticky social glue, investigating new frontiers and joining dots between a constellation of people who are blazing trails in their own spectacular or intimate way.  We have taken The Trailblazery on tour around Ireland, inhabiting abandoned buildings, historic landmark venues, courthouses, churches, fields and forgotten spaces. We have made magical collaborations with festivals such as Galway Arts Festival, Body & Soul, Cork Midsummer Festival and Dublin Fringe Festival. Watch previous Trailblaze video links here: http://www.youtube.com/user/Trailblazery.
 In September 2013, The Trailblazery curated and produced a large scale spoken word and music cycle Rites of Passage in Dublin, Ireland involving over 50 participants and performers from Ireland, Iceland, Greece, Canada, The US, Britain, Bosnia and Herzegovina. The Trailblazery also designed a series of Hedge Schools and an educational music project involving a bespoke choir with 101 children from St. Brigid's School in Killester featuring Nina Hynes and our own contemporary music ensemble. The Rites of Passage project was an excavation of collective moments that have shaped our social, political, cultural and spiritual evolution. The Rites of Passage cycle hosted a brilliant cast of national and international participants ready to explore, reveal and re-imagine this place we call home. Our vision was to shine a light on influential happenings and experiences that have shaped who we are as people and where we might be going on this island and beyond.
Link to previous Trailblazery content
http://www.youtube.com/user/Trailblazery
Reaction to The Trailblazery and Rites of Passage
…One of Ireland's most meaningful public engagements since September 2008, when the national conversation became obsessed with bank bailouts, bond-holders, liquidity versus solvency, and the god-awful markets. This was about Ireland's soul.
Justine McCarthy (writing about Rites of Passage), The Sunday Times
 The Trailblaze events are crucial. I think that the creation of a new and meaningful civic discourse in this country is the thing that will transform Ireland. Ireland needs to think, act and move differently.
Colm O' Gorman, Amnesty Ireland on Morning Ireland, RTÉ
 Trailblaze served us up mega food for thought, and also a call to action… a truly wonderful, thought provoking, and stimulating evening.
Deirdre Mulrooney (writing about Rites of Passage), Vulgo Magazine
 The Trailblaze team have been platforming ideas and contentions whilst torch lighting all aspects of our existence over the last few years.
Zach Joyce, Le Cool, 15th September 2013
We need big ideas, we need big conversations, and we need new methods of engaging with all of those ideas, conversations and structures.
Una Mullally, Irish Times
I came along last night and listened, entranced, to each of the speakers share their experiences and "Aha!" moments. So much of what they spoke about resonated with me, I cried and laughed and felt comforted and inspired at once.
Audience Member